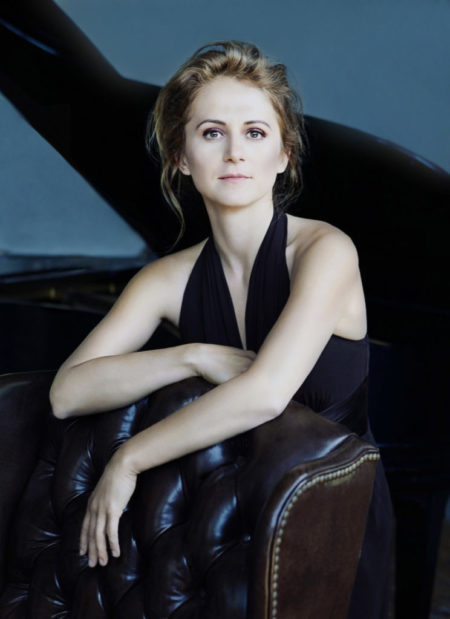 Polish-American pianist Anna Kijanowska is a multi-faceted musician, smoothly transitioning between her roles as a performing and recording artist, pedagogue, and advocate of contemporary classical music.
Hailed by The New York Times as "an excellent young Polish pianist," and by Brazilian critics as "the Tina Turner of classical music", Kijanowska's concert performances represent the stunning diversity of today's globalized classical music scene. She is equally at home performing in Carnegie Hall as the steppes of Mongolia. Her New York debut took place in 1997 with a live broadcast over WQXR, and she has appeared in Carnegie Hall, Merkin Hall (NYC), and the Kennedy Center and National Gallery of Art in Washington, D.C, as well as in underserved venues such as the Amazon basin in Brazil, the Himalayas in Nepal, and Mongolia.
Anna's recording of The Complete Mazurkas by Szymanowski (Dux 417) was praised "as superior to any other interpretations that came before or after her" and "Kijanowska's performances are amazingly virtuosic, astonishingly charismatic, astoundingly empathic and completely compelling."
As a soloist and chamber musician, she has appeared in major festivals in Europe, including the Kiev Festival and the Polish Composers Festival under the patronage of Henryk Mikolaj Górecki. She has collaborated with renowned musicians, including violinists Charles Castleman, Sharon Roffman, and Ayano Ninomiya of Ying Quartet, pianist Blair McMillen of the Da Capo Chamber Players, and jazz pianist Leszek Możdżer.
Anna is particularly passionate about Polish and contemporary music. She has been involved in several international premiers and works with living composers on a regular basis. Her repertoire spans from the 16th to the 21st century, and includes rarely performed gems of the Polish repertoire, such as the Piano Concerto by Lutosławski, as well as major works by Chopin and Górecki.
She regularly presents innovative recital projects incorporating contemporary music with traditional repertoire (From Liszt to Liang, 2011) or a fusion of musical styles (jazz with pianist Leszek Możdżer and Harris Simon). Anna's interest in the synthesis of arts and media has resulted in several projects combining music, visual arts, dance, poetry, and photography.
As an internationally recognized music educator, Anna regularly presents master classes, recitals, and lectures at leading universities and conservatories around the globe. She has been invited as an adjudicator for competitions worldwide, including the Yamaha Piano Competition, in Guangzhou, China, the Chopin piano competitions in Indonesia and Singapore as well as the MTNA and the Washington International Competition in the USA.
A winner of several national and international competitions herself, Anna has received grants from the Kosciuszko Foundation, the Jewish Foundation for Education of Women, the Madeleine Forte Foundation, the Manhattan School of Music in New York City, and the Batory Foundation in Poland.
Her musical education began in Bielsko-Biała, Poland and she attended the Szymanowski Music Academy in Katowice, under the tutelage of Prof. Józef Stompel.
After receiving her Master of Music Degree in Piano Performance and Pedagogy from the Music Academy in Wrocław, Anna was awarded a scholarship to study with Dr. Madeleine Forte at Boise State University in the US. She holds a Doctorate and a Master of Music in Piano Performance from the Manhattan School of Music in New York, where she studied with Byron Janis, Mykola Suk, Sara Davis Buechner and Marc Silverman.
Anna Kijanowska is currently a faculty member at the Music Institute in the Fine Arts Department of the University of Silesia in Cieszyn, Poland. She is a former faculty member of the College of William and Mary and the University of Richmond in Virginia, the University of Virginia in Charlottesville, the University of Nevada in Las Vegas, The Castleman Quartet Program, the Levine School of Music, and the Washington International Piano Festival in Washington D.C.
pura musica is dedicated to promoting female musicians. We are pleased to represent Anna Kijanowska in Germany, Austria and Switzerland. Please get in touch with us for booking inquiries and further information.

Artist Management

| Music Festivals | Career Coaching