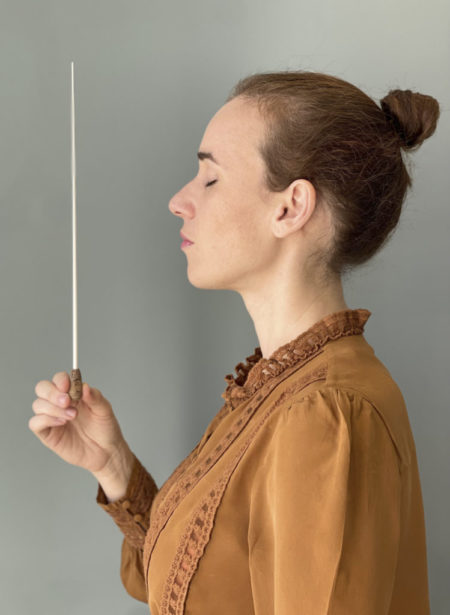 Conductor Dina Bensaid was born in Rabat, Morocco, and began her musical career as a concert pianist. A graduate of the Conservatoire National Supérieur de Musique et de Danse de Paris, she studied with Jacques Rouvier and Frank Braley. As the first Moroccan to be admitted to one of the most prestigious competitions in the world, she is a laureate of the Queen Elisabeth Competition of Belgium.
Since her debut with the Moroccan Philharmonic Orchestra in 2003, the regular collaboration with the orchestra in her home country is very dear to Dina Bensaid. In September 2015, she made her London debut with the English Chamber Orchestra, and she performed Rachmaninov's 2nd piano concerto at the inaugural concert of the Maghreb Philharmonic Orchestra under the baton of Faycal Karoui.
Her career as a concert pianist has led her to perform as a soloist in many European venues such as the Philharmonie de Paris and the Royal Victoria Hall in London, and to collaborate with major orchestras such as the London Chamber Orchestra, the Orchestre Pasdeloup, and the Orchestre Philharmonique du Maroc.
Dina has been able to enrich herself through collaborations with artists such as Jean-Claude Casadesus, David Guerrier, Abdel Rahman El Bacha, Frank Braley, Faycal Karoui, Emmanuelle Bertrand, Abdellah Lasri or Yovan Markovitch. She founded the Yadaïn Piano Duo with pianist Eloïse Bella Kohn to promote a message of dialogue and respect between Jewish and Muslim cultures.
In parallel to her pianistic career, Dina trained as a conductor with Nicolas Brochot in Paris, making her the first female conductor in the Arab world. She particularly enjoys performing concertos and conducting from the piano. Eager to break the wall between the stage and the audience, Dina strives to transform her concerts into a moment of interaction and sharing.
As assistant conductor of the Moroccan Philharmonic Orchestra, she was able to further deepen her conducting skills and built up a considerable repertoire. Collaborations included Jean-Claude Casadesus, Hervé Niquet, and Wolfgang Doerner.
She has participated in various French television programs, notably on the national channel France 2. At the World Expo in Dubai, she was chosen to conduct some of the orchestral videos broadcast during the event.
Dina Bensaid is supported by l'ADAMI and the Fondation Safran pour la culture.
pura musica is dedicated to promoting female conductors. We are pleased to represent Dina Bensaid in Germany, Austria and Switzerland. Please get in touch with us for booking inquiries and further information.

Artist Management

| Music Festivals | Career Coaching