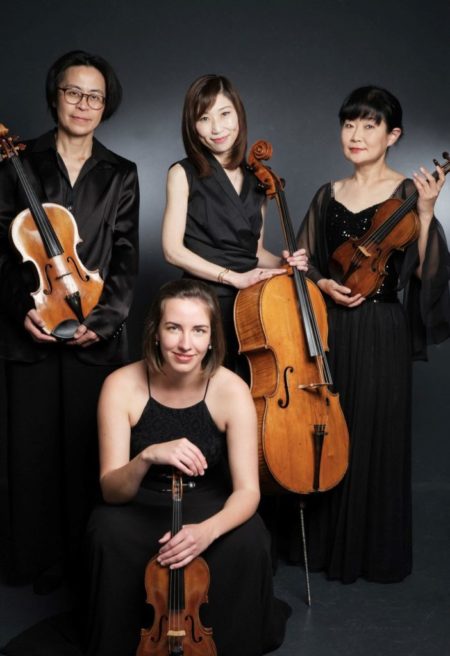 The Stuttgart-based Lotus Quartet was founded in Tokyo in 1992. As one of the few ensembles on the international quartet scene with female players in all positions, the Lotus Quartet has been playing for a considerably long time with a largely constant lineup. The characteristic synthesis of cultural influences from Japan and Germany has been deepened since 2022 by the addition of violinist Swantje Tauscher, the first concertmaster of the Freiburg Philharmonic Orchestra, as the second violin.
Winning the 3rd prize at the 1993 International Chamber Music Competition in Osaka, Japan, marked the start of the international career of the Lotus Quartet. A scholarship enabled the four musicians to participate in master classes with the Amadeus Quartet as well as the Melos Quartet. From 1995 on, they studied with the Melos Quartet at the State University of Music and Performing Arts in Stuttgart. Further achievements at international competitions include the second prize at the Viotti Competition in Italy (1995), followed by the Menuhin Prize at the London Quartet Competition 1996/97, the third prize at the "Premio Paolo Borciani" and the first prize at the competition of the Kulturkreis der Deutschen Wirtschaft im BDI.
In addition to the music of the Viennese Classicism, German Romanticism, and French Impressionism, the Lotus Quartet's repertoire includes contemporary Japanese composers such as Tōru Takemitsu and Toshio Hosokawa, as well as works by Helmut Lachenmann and the Second Viennese School. In addition, the four musicians are dedicated to promoting compositions by female composers.
Their recordings of selected works by Mozart and contemporary Japanese composers (Teldec, 1997 and 2000) and a production of lesser-known quartets by Johann Baptist Vanhal (cpo, 2014) attracted particular attention.
The Lotus Quartet established itself as a regular guest of the most important chamber music series and leading festivals in Germany and Japan. Since 1998, it has performed every year in Darmstadt, where it presented a complete Beethoven cycle. Series with works by Mozart, Schubert, Schumann and Brahms followed. In 2017, the Lotus Quartet performed a Beethoven cycle in Japan, followed by performances of Beethoven's late quartets in several Japanese cities in 2018. The ensemble's 30th anniversary tour in February 2023 will culminate in performances of Felix Mendelssohn's six quartets.  
Chamber music partners to date include Wolfgang Boettcher, Martin Fröst, Sebastian Manz, Peter Buck, Wolfgang Güttler, Philippe Tondre, and Bernd Glemser. 
Sachiko Kobayashi, 1st violin
Swantje Tauscher, 2nd violin
Tomoko Yamasaki, viola
Chihiro Saito, violoncello
pura musica is dedicated to promoting female musicians. We are pleased to represent the Lotus Quartet's special project "Fanny's daughters" in Germany, Austria and Switzerland. Please get in touch with us for booking inquiries and further information.

Artist Management

| Music Festivals | Career Coaching