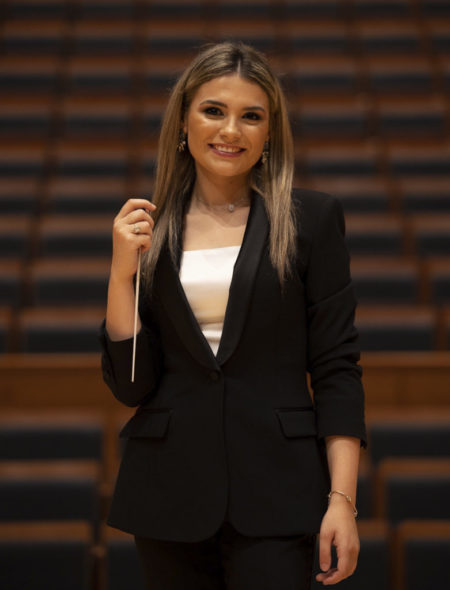 Ana Spasovska is considered one of the most promising young artists of her generation. "A born conductor and one of my best students," is how her teacher and mentor, Slovenian conductor Uros Lajovic, describes her.
Born in Skopje in 1998, she began her violin studies at the age of 9 and continues her education at the Academy of Music in Skopje in the studio of Oleg Kondratenko. She is the winner of numerous special awards for both solo violin and chamber music.
Ana started her conducting studies at the Academy of Music in Skopje, North Macedonia, with Prof. Borjan Canev. She gained her first conducting experience with the Orchestra of the Academy of Music, with which she continues to collaborate. Since 2019, she has regularly participated in master classes under the direction of Maestro Uros Lajovic in Dubrovnik and Plovdiv.
In 2019 Ana made her conducting debut with the Dubrovnik Symphony Orchestra, followed a few months later by the Plovdiv State Opera. 2021 saw her debut with Jeunesses musicales. She was invited to conduct at the First Skopje Brass Festival, where she collaborated with the distinguished Hungarian trombonist Gyorgy Gyivicsan. Her debut with the Macedonian Philharmonic Orchestra took place in June 2021.
As a conductor, she will continue to perform with the Macedonian Philharmonic Orchestra in the upcoming season. As an assistant to Prof. Borjan Canev, she had the opportunity to conduct at the Ohrid Summer Festival. Ana Spasovska was part of the European Orchestral Performance Program, assisting the British conductor, Timothy Redmond.
In September 2022, Ana Spasovska won the first international masterclass and competition at the Hungarian National Symphony Orchestra in Szeged, Hungary where she continues to work as their guest conductor.
She is a founder of the Chamber orchestra Ayga in Skopje, with which she conducted concerts with one of the greatest pianists of all time, Ivo Pogorelich, and the violin virtuoso Kirill Troussov.
In June 2023, Ana was invited to be a part of the European Capital of Culture 2023 program, where she is an assistant to Maestro Gabriel Bebeselea in the co-production of Schönberg's Gurrelieder with more than 450 performers on stage including Filharmonica Banatul Timisoara, Opera National Timisoara and Theater Altenburg Gera. 
pura musica is dedicated to promoting female conductors. We are pleased to represent Ana Spasovska in Germany, Austria and Switzerland. Please get in touch with us for booking inquiries and further information.

Artist Management

| Music Festivals | Career Coaching