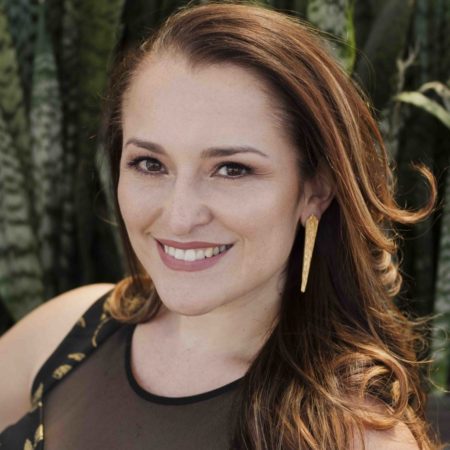 Growing up in a family of four sisters and a single mother, Costa Rican soprano Ivette Ortiz understood at a very early age the profound impact of sisterhood and the strong bonds women share.
Her recital program "Esencia de Mujer" features the works of female composers from Central and South America as well as Cuba.
Dolores Castegnaro and Rocío Sanz were the first generation of women composers in Costa Rica. Dolores Castegnaro initially studied with her Italian father, pianist Alvise Castegnaro. Later in life, she continued her studies at the Conservatorio Giuseppe Verdi in Italy. Rocío Sanz studied abroad as well, first in Los Angeles, California, and later in Mexico where she studied with Blas Galindo, Carlos Jiménez Mabarak, and Rodolfo Halfter. Both Costa Rican composers established themselves in Mexico, a country that had opportunities that Costa Rica was not able to give to women in the early 20th century.
The following composers from South America are an introduction to the variety of music and culture that Latin America has to offer: Modesta Bor was born in Venezuela and began her composition studies with Vicente Emilio Sojo in Caracas. She then spent two years at the Tchaikovsky Conservatory in Moscow where she studied with Aram Khachaturian. Helza Cameu, Virginia S. Fiuza, and Najla Jabor are three Brazilian composers from very different backgrounds. While Najla Jabor was a conductor and composer, Helza Cameu was more interested in composing and preserving indigenous music as a musicologist.
"Cánticos para sonar" by Irma Urteaga portrays the beauty and challenges of motherhood. The melodies capture the ease of loving one's child, while the underlying harmony offers the many layers and richness of the motherhood experience. As mothers, we find tranquility and serenity to sing our children to sleep; but we still have our worries, big and small. Composer Irma Urteaga was born in San Nicolás, Argentina. She studied piano at the National Music Conservatory Carlos López Buchardo and later pursued orchestra and choral conducting at the Teatro Colón Institute in Buenos Aires.
Mariela Rodríguez is a Cuban composer based in Valladolid, Spain. She began her studies in piano at the National School of Music in Havana, Cuba, and at the University of Salamanca in Spain. She has received multiple scholarships and grants from various institutions and her music has been performed in Cuba, Italy, Spain, Hungary, Romania, and Austria.
Rocío Sanz (Costa Rica, 1934 – 1993)
A unos ojos
Dolores Castegnaro (Costa Rica, 1900 – 1979)
La Casita
No te quiero ver
Modesta Bor (Venezuela, 1926 – 1998)
Triptico sobre poesía cubana (poetry by Nicolás Guillén)
1. Guitarra
2. Canción para dormir a un negrito
3. Nocturno en los muelles
Helza Cameu (Brazil, 1903 – 1995)
Saudade
Virginia Salgado Fiuza (Brazil, 1897 – 1987)
Cantiga                                    
Najla Jabor (Brazil, 1915 – 2001)
Toada N.5                                  
Irma Urteaga (Argentina, 1929 – 2022)
Cánticos para soñar  
1. Canción de Cuna para mi corazón solitario
2. Canto de Nodriza
3. Vocalise
4. Capullito
Mariela Rodríguez (Cuba, born 1986)
Tres poemas negros
1. Poema de la jícara
2. Para dormir a un negrito
3. Pregón

Artist Management

| Music Festivals | Career Coaching