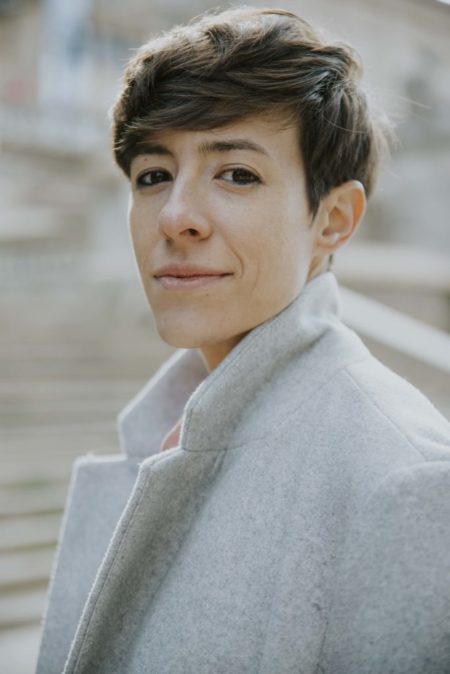 Spanish conductor Irene Delgado-Jiménez was recently named Associate Fellow 2022-24 by the Taki Alsop Conducting Fellowship. She currently serves as assistant to Maestra Marin Alsop at the ORF Radio Symphony Orchestra in Vienna, Austria, as well as Principal Guest Conductor of Orquestra Terres de Marca in Barcelona, Spain.
Forthcoming engagements include assisting Marin Alsop at the RSO at the Wien Modern Festival and other productions with NOSPR in Poland (2022-23), serving as cover conductor at Reno Philharmonic and a staged performance of Marianne von Martines' oratorio "Isacco" in Palau de la Música (Barcelona). After debuting to critical acclaim at Barcelona's Teatre del Liceu conducting Marc Migó's opera "The Fox Sisters" (2022), Delgado-Jiménez will be back this season for the premiere of Marian Márquez's opera "Filles del món".
2021 saw Irene's debut at the Wiener Konzerthaus with the Niederösterreichische Tonkünstler Orchester. Her operatic debut in Vienna took place in May 2021, with Stravinsky's opera Mavra. The same year she served as Assistant Conductor at the Neue Oper Wien in Wolfgang Rihm's production of Proserpina.
In 2020, she recorded de Falla's El Amor Brujo with Anna Colom and the Orquestra Terres de Marca Barcelona. Earlier, she had her Italian debut with the Catania Philharmonic and the Coro Lirico Siciliano. She also had the distinct honor of conducting the Opening Fanfare at the Vienna Ball of Sciences at Vienna's City Hall in both 2020 and 2019.
Between 2018-2020 Delgado-Jiménez served as Assistant Conductor in several productions at the Wiener Kammeroper and the Vienna Radiokulturhaus. The repertoire included Bernstein's Mass, Mozart's La Finta Giardiniera, Beethoven's Triple Concerto, and Schumann's and Mahler's 4th Symphonies, among others.
International engagements took Irene Delgado-Jiménez to Argentina, Germany, the UK, and Sweden. She conducted various orchestras, choirs, and ensembles in Barcelona. From 2016 to 2018 she held the positions of Chief Conductor and Artistic Director of the Sant Cugat Sinfonietta, Symphonic Band AMCV, and the Tornaveu Jazz Chamber Choir.
In 2017, Irene was awarded a Special Commendation at the Graz Conducting Competition in Austria with the Kammerphilharmonie Graz. As a pianist, she won the Piano Prize of Honor of the Barcelona Conservatory in 2012, as well as the Soloist Competition, performing Beethoven's 3rd Piano Concerto.
Trained in Barcelona with Jordi Mora and in Vienna with Andreas Stoehr, she has participated in masterclasses with Marin Alsop, Douglas Bostock, Sian Edwards, Mark Heron, and Simon Carrington, among others.
A passionate educator, Irene has recently collaborated as a lecturer at the prestigious Music and Arts University in Vienna.
Irene Delgado-Jiménez is deeply committed to nurturing the cultural scene of her home country beyond the podium. She has written for several music magazines and spreads awareness of classical music through various media. Moreover, she leads the organization Thalassa Music Project, dedicated to the promotion and divulgation of classical music at a professional level in the south of Spain.
pura musica is dedicated to promoting female conductors. We are pleased to represent Irene Delgado-Jiménez in Germany, Austria and Switzerland. Please get in touch with us for booking inquiries and further information.

Artist Management

| Music Festivals | Career Coaching