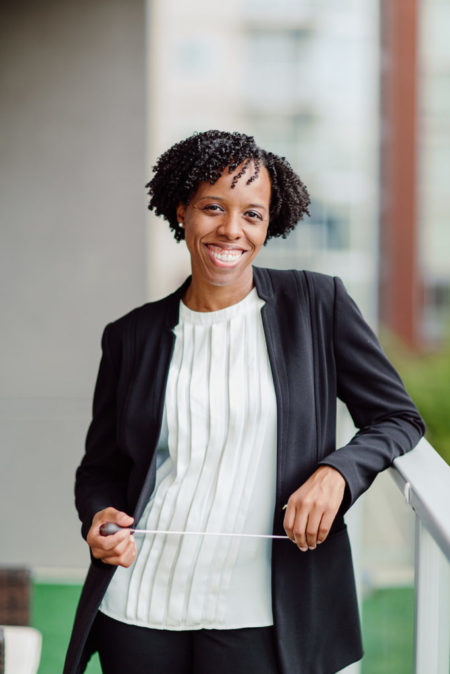 With her distinctive voice as maestra, speaker, and poet, critics praise Panamanian-American conductor Kalena Bovell as "one of the brightest stars in classical music." (Channel 3 News, Connecticut). 
Named a 2022-2024 Award Recipient of the Taki Alsop Conducting Fellowship, Bovell's singular imprint on the arts distills into two values: community engagement and musical excellence. She employs these values as Assistant Conductor to the Memphis Symphony Orchestra and Conductor of the Memphis Youth Symphony, while continuing to have high demand as a guest conductor.
Bovell's 2022-2023 season features a bevy of exciting conducting debuts, including her opera debut with Volcano Theatre, where she will lead a reimagined production of Scott Joplin's Treemonisha. Additional debuts include with the Musikkollegium Winterthur in Switzerland, Sphinx at SphinxConnect2023, the Albany Symphony, and Louisiana Philharmonic. Residencies this season include UC Redlands in California as well as the Harmony Project in Los Angeles in February 2023.
In recent years, Bovell has led numerous marquee performances, including at the BBC Proms with the Chineke! Orchestra, the Louisville Orchestra, and the Kennedy Center's "Reframing the Narrative" with the Collage Dance Collective in Kevin Thomas's Firebird. Reviewing her BBC performance, ArtsDesk stated simply: "Never let her go." She is also quickly becoming a mainstay on the North American festival circuit, conducting at the Summer Orchestra Institute at New England Conservatory, and the Sewanee Summer Music Festival in 2022. Since making her professional debut as the Chicago Sinfonietta's Assistant Conductor in 2016, invitations as guest conductor have included Hartford Opera Theatre, New Britain Symphony, and a particularly memorable performance leading Hamilton star Leslie Odom Jr. with the Memphis Symphony prior to her official appointment. Outside conducting, Bovell's poem, "Tethered Voices," also premiered the same year, set to music by James Lees III and performed by the University of Michigan Symphony Orchestra. She additionally made speaking appearances at Sewanee Winterfest and the SphinxConnect 2021: UNITY Conference.
Bovell's first private lesson came at 18, a late introduction to classical music that sets her background apart. In hopes of inspiring similar young artists, Bovell has shared insights from her unconventional career path with news outlets, universities and organizations including the BBC and the League of American Orchestras. 

A Los Angeles native, Bovell received a Master of Music and Graduate Performance Diploma in Orchestral Conducting from The Hartt School, where she studied with Edward Cumming, and holds a Bachelor of Music Education from the College of the Performing Arts at Chapman University
In addition to conducting, Bovell is a published author, releasing her first poetry book titled "Dear Soul…" in 2009. She has increasingly interwoven her poetry with her music career, collaborating with Rob McClure's Conductor Cam series in 2020 to perform her poem "Tethered Voices."
pura musica is dedicated to promoting female conductors. We are pleased to represent Kalena Bovell in Europe. Please get in touch with us for booking inquiries and further information.

Artist Management

| Music Festivals | Career Coaching