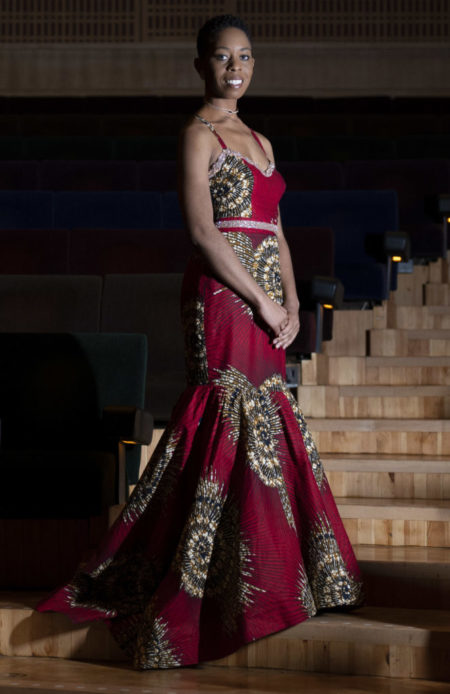 Samantha Ege (pronounced Eh-Geh) is an award-winning musicologist, internationally recognised concert pianist, and renowned public speaker. She belongs to a new generation of practitioners who are redefining classical music and illuminating the diversity of its past, present, and future.
Samantha was born in Surrey, England, and shares Nigerian and Jamaican heritage. She started playing the piano at the age of 3. Her passion for performance and love of writing have since led to a fascinating career as a music historian as well as an active musician.
Samantha is a leading interpreter and scholar of the African American composer Florence B. Price. Her publications and performances shed important light on composers from underrepresented backgrounds. As an academic, she holds the position of Research Fellow at the University of Southampton. From 2020 to 2022, she was the Lord Crewe Junior Research Fellow in Music at Lincoln College, University of Oxford. In 2021, she received the American Musicological Society's Noah Greenberg Award for her third album, Black Renaissance Woman, in recognition of its outstanding contribution to historically informed performance. In 2019, she received both the Society for American Music's Eileen Southern Fellowship and a Newberry Library Short-Term Residential Fellowship for her research on early 20th century women composers in the United States. She is currently writing her first book, which is called South Side Impresarios: Race Women in the Realm of Music (University of Illinois Press).
As a concert pianist, Samantha made her Barbican debut in 2021 with a "vivid, revelatory recital" (Michael Church, iNews) in which she gave the UK premiere of Vítězslava Kaprálová's Sonata Appassionata. In her London debut at the 2021 London Festival of American Music, she gave the world premiere of Florence Price's complete Fantasie Nègre set. In 2018, she made her international lecture-recitalist debut at the Chicago Symphony Center with her event "A Celebration of Women in Music: Composing the Black Chicago Renaissance." She has additionally performed at a number of other venues in the UK, Ireland, USA, Canada, Australia, Singapore, and Hong Kong. She is thrilled to now bring her music to audiences in Germany, Austria, and Switzerland.
Samantha released her debut album, Four Women: Music for Solo Piano by Price, Kaprálová, Bilsland and Bonds, in May 2018 with Wave Theory Record. She released her critically acclaimed second album, Fantasie Nègre: The Piano Music of Florence Price, in March 2021 with the label LORELT. Her third album (also with LORELT) came out in February 2022 and is called Black Renaissance Woman: Piano Music by Florence Price, Margaret Bonds, Nora Holt, Betty Jackson King & Helen Hagan – a recording that has cemented Samantha's place as a champion of women composers. Her fourth album is a collaborative project with the Boston-based Castle of our Skins string quartet. It is called Homage: Chamber Music from the African Continent and Diaspora and will be released by LORELT on 28 October 2022.
pura musica is dedicated to promoting female musicians. We are pleased to represent Samantha Ege in Germany, Austria and Switzerland. Please get in touch with us for booking inquiries and further information.

Artist Management

| Music Festivals | Career Coaching