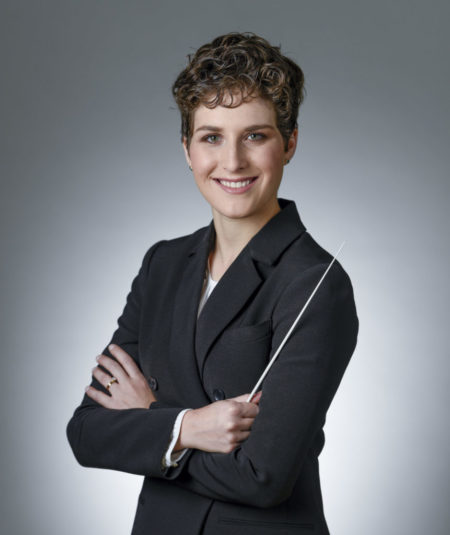 A native of Atlanta, Georgia, Tamara Dworetz is quickly establishing a reputation as a dynamic and electric musical force on the podium.
She has conducted the Paris Mozart Orchestra, Boston Pops, Dallas Opera Orchestra, Moscow Symphony, Cabrillo Festival Orchestra and Amarillo Symphony, and in the 2022-23 season she will make her debut with the Louisiana Philharmonic Orchestra, Mankato Symphony and Georgia Philharmonic.
This season she will also serve residencies with the Boston University School of Music and SUNY Fredonia School of Music. Tamara has served as Assistant Conductor to Bramwell Tovey and the BBC Concert Orchestra at the London Proms, Cover Conductor for the Sarasota Orchestra, Assistant Conductor for the Atlanta Opera, and Assistant Conductor for the Austin Symphony Orchestra and Butler Opera Center.
Tamara was recently selected as 1 of 14 candidates from a worldwide pool in the 2022 La Maestra Conducting Competition and Academy for Women Conductors in Paris, France. She was the only US-born conductor selected for the competition and earned a spot as one of 6 semi-finalists. She was also chosen for the 2-year Academy involving opportunities with the London Philharmonic, Philharmonie de Paris, and National Orchestra of France. Tamara also won 2nd prize in the Boston Pops' Leonard Bernstein Conducting Competition. Tamara has been a recipient of the Bruno Walter Conducting Fellowship at the Cabrillo Festival of Contemporary Music, which she twice attended, in both in 2019 and 2021, working and learning from an array of composers and musicians, and studying with Cristian Măcelaru, conductor of the WDR Symphony Orchestra in Cologne.
An advocate for new music and inventive programming, Tamara enjoys designing collaborative performances to further engage audiences and increase accessibility. Recently, she invited Rudras, an award-winning Indian Classical Dance Team, to perform a story-through-dance to Indian-American composer Reena Esmail's TaReKiTa. Tamara also paired Reena Esmail's Teen Murti with Hungarian composer Zoltan Kodály's Dances of Galánta; these pieces have similar forms and blend Hindustani and Hungarian musical traditions, respectively, with Western-Classical elements. She also programmed Atlanta-born composer Carlos Simon's The Block (specifically one in NYC) with Leonard Bernstein's Symphonic Dances from West Side Story which might take place on that same block. Tamara enjoys making connections through creative programming which help highlight musical elements and further engage audiences.
A devoted music educator, Tamara's musical beginnings took place in the Atlanta public school system. Tamara is passionate about leading K-12 and pre-professional musicians in enriching musical experiences. Tamara was Director of Orchestras at Lakeside High School in Atlanta where she increased enrollment by 50%. This season Tamara will serve residencies at the Boston University School of Music and SUNY Fredonia School of Music, as well as guest-conduct the TMEA (Texas) All-State Philharmonic Orchestra. Previously, Tamara has been guest conductor for the Longy Conservatory Orchestra at Bard College and Music Director of the Rensselaer Polytechnic Institute (NY) Orchestra and Concert Choir. She has also served as Interim Conductor of the Austin Youth Orchestra and worked with the Emory and Boston Youth Symphony Orchestra.
Tamara and her husband, Stephen, live in Brookhaven, Georgia with their puppy and two guinea pigs. When she's not conducting, she enjoys going to the dog park, drinking her favorite craft & Belgian beers, and watching dark comedies.
pura musica is dedicated to promoting female conductors. We are pleased to represent Tamara Dworetz in Germany, Austria and Switzerland. Please get in touch with us for booking inquiries and further information.

Artist Management

| Music Festivals | Career Coaching