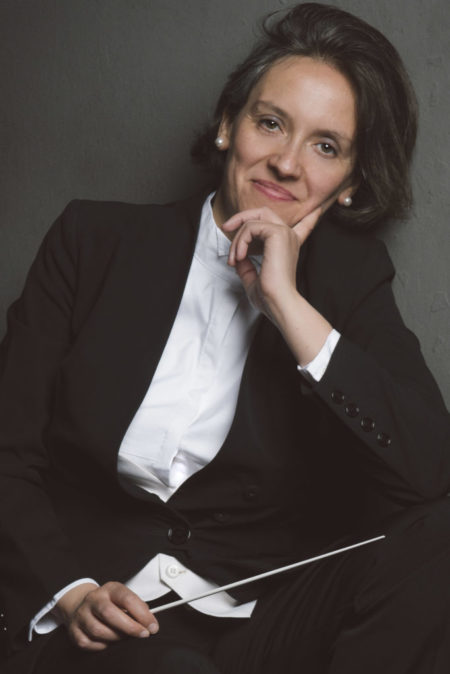 The preeminent Chilean/Italian conductor Alejandra Urrutia is the first woman to head an orchestra in Chile.
Alejandra currently serves as Music Director of the Chamber Orchestra of Teatro Municipal de Santiago – National Opera of Chile. In addition, she is the Artistic and Music Director of the Portillo International Music Festival Academy and Resident Conductor of the Orchestra of the Americas, based in Washington, DC.
In 2023, Alejandra Urrutia will open the season of the Philharmonic Orchestra of Santiago, Chile. The same season will see her debut with the National Symphony Orchestra of Mexico and the Symphony Orchestra of the University of Sao Paulo, Brazil.
Previous positions include Music Director of the Chilean Chamber Orchestra and the Provincial Symphony Orchestra of Santa Fe, Argentina. Between 2017 and 2021 she was assistant conductor to Ivan Fischer with the Budapest Festival Orchestra and the Konzerthausorchester Berlin.
Alejandra has worked with major orchestras in Europe, North America, and Latin America, including the Orchestra of the National Arts Centre Canada, the Orchestra of the Cabrillo Festival of Contemporary Music, New York Chamber Players, Buenos Aires Philharmonic, Santa Fé Symphony, and the Orchestra of the Teatro Colón, Argentina, to name a few.
Working for several years with the Curanilahue Youth Orchestra, Alejandra was able to witness the change that music brings to the lives of young musicians, their families, and the entire community. In 2019 she launched one of the most innovative cultural projects in Chile: the Portillo International Music Festival Academy. The annual festival, featuring an international faculty, is aimed at the education of music talent in South America and follows a holistic approach.
As creator and conductor of the "Great Concert for Brotherhood", Alejandra brings together every year more than 150 instrumentalists and a citizen choir of more than 200 people as a message of unity under the motto "Music as a common territory". In 2020, after conducting Gustav Mahler's Resurrection Symphony in front of an audience of over 5000, she received the Mahler Award from the Mahler Society of Mexico, joining the ranks of Sir Simon Rattle, Bernard Haitink and Gustavo Dudamel.
Born in Concepción, Chile, Alejandra Urrutia studied conducting with Robert Spano and Hugh Wolff at the American Academy of Conducting at Aspen, as well as Marin Alsop, Kenneth Kiesler, Gustav Meier, Hans Graf, Larry Radcleff, and Murry Sidlin.
Alejandra Urrutia is part of the Taki Alsop Conducting Fellowship, a mentorship for women conductors led by Marin Alsop. She has worked internationally as conductor, violinist and educator with a master's and doctorate from the University of Michigan.
pura musica is dedicated to promoting female conductors. We are pleased to represent Alejandra Urrutia worldwide, with the exception of Central and South America. Please get in touch with us for booking inquiries and further information.

Artist Management

| Music Festivals | Career Coaching