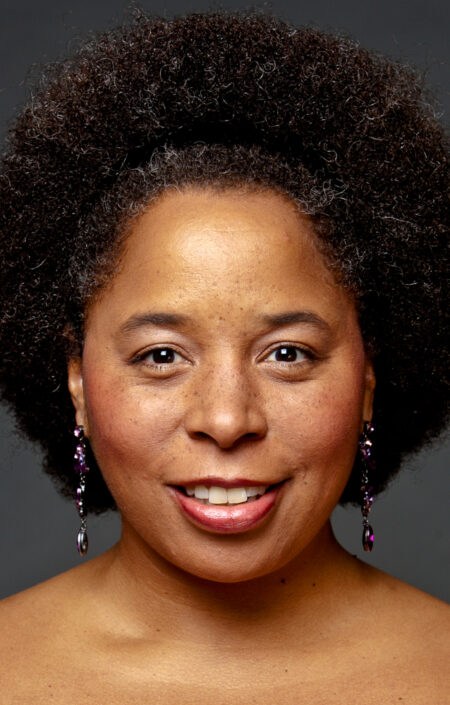 Hailed as a "stupendous and heartrending" talent (Bild Zeitung), Scottish-American mezzo soprano Andrea Baker is internationally renowned for her "enchantingly powerful" performances (Das Orchester). An operatic trailblazer, she was the first African American to take the role of Carmen in Australia, at Sydney Opera House, the first to take the roles of Fricka, Erda, and Waltraute in Wagner's Ring in China at the Beijing Festival, and Ortrud in Lohengrin in the South Korean premier of the opera for the Daegu Festival. 
"A beautiful, talented mezzo with a sublime voice" (Sydney Morning Herald), Ms Baker has collaborated with many of the world's leading conductors, including Sir Simon Rattle, Zubin Mehta, Sir Donald Runnicles, Richard Hickox, and Sir John Eliot Gardiner. Her acclaimed interpretations range from Amneris in Aida and Mescalina in Le Grand Macabre to Serena in Porgy and Bess. Her debut in the role of Die Amme in Die Frau Ohne Schatten was an extraordinary success and saw her lauded as "born to sing and act the music of Richard Strauss" (Opernetz).
Highlights of recent seasons include a return to the Edinburgh International Festival as Anita in West Side Story with the Scottish Chamber Orchestra (Gardiner), and woman.life.song by Judith Weir with Chineke! Orchestra (Eddins). Upcoming engagements include Monisha in Scott Joplin's Treemonisha for the Luminato Festival in Toronto, Sing Sistah Sing! Tales Of Transatlantic Freedom in the Made in Scotland showcase at the Edinburgh Fringe, and the iconic roles of Hattie and Stella in Sondheim's Follies for the Wiesbaden State Theater.
In addition to her celebrated work on the opera stage, Ms Baker has taken on an extraordinary breadth of voices across various media. Her one-woman series Sing Sistah Sing! is a joyous, soulful celebration of the voice of the African diaspora. The first in this series was the award-winning celebration of the African American female voice, this ground-breaking show has toured to sold out audiences around the world, most recently at the 2020 Edinburgh International Festival. The second in the series is Sing Sistah Sing! Tales of Transatlantic Freedom with new co-creator and multi-instrumentalist Howard Moody, the show is a glorious exploration of our global musical heritage. Out of the pain of the diaspora narrative comes the richness of spirituals, jazz, blues, gospel, opera, and the songs of Robert Burns.
As a radio presenter and documentary maker she can be heard across the BBC, including on Radio Scotland, Radio 4, World Service and Radio 3's Sounds Connected, and has produced her own podcasts for The Big Light Network.
pura musica is dedicated to promoting female musicians. We are pleased to represent Andrea Baker as well as her programs "Sing Sistah Sing!" and "Tales of Transatlantic Freedom" worldwide. Please get in touch with us for booking inquiries and further information.

Artist Management

| Music Festivals | Career Coaching