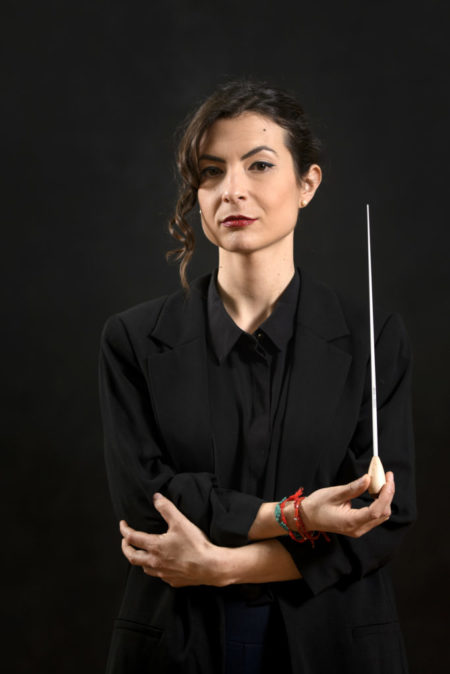 The Italian conductor Claudia Patanè is considered one of the outstanding artistic personalities of our time.
Claudia Patanè first studied piano at the "Vincenzo Bellini" Conservatory in her hometown of Catania and conducting at the "Santa Cecilia" Conservatory in Rome. After graduating with honors, she continued her studies in conducting at the "Accademia Musicale Pescarese" under the direction of Maestro Donato Renzetti, who described her as "one of the most interesting talents of her generation".
In November 2014, she conducted the Orchestra of the Conservatory "Santa Cecilia" in the Italian Parliament in a commemorative concert for the 60th anniversary of the death of Italian Prime Minister Alcide de Gasperi.
The young musician gained her first experience as a principal conductor at the helm of the orchestra of the Conservatory "Santa Cecilia" in the 2015/ 2016 season, where she played a key role in shaping the "Prendiamo nota" initiative at the Teatro Eliseo in Rome and conducted, among others, the premiere of three works by contemporary composers. The highlight of the season was the orchestra's anniversary concert at the Vatican in the presence of Pope Francis.
Guest conducting engagements have taken Claudia Patanè to the Teatro Massimo Bellini in Catania, the Orchestra Sinfonica Siciliana, the Pazardjik Symphony Orchestra and the North Bohemian Philharmonic Teplice. In November 2018, she led concerts with the Ensemble Offerta Musicale as part of the "Nuove Musiche" series at the Teatro Massimo in Palermo.
From 2018 to 2020, she served as assistant and guest conductor at the Joseph Kajetan Tyla Theater in Plzen (Czech Republic), where she conducted productions of Prokofiev's ballet "Romeo and Juliet", as well as "Idomeneo" by Mozart, "Iris" by Pietro Mascagni and "L'Incoronazione di Poppea" by Claudio Monteverdi.
During the 2021 /2022 season, Claudia Patanè was guest conductor at the Theater Erfurt in Germany. Here she conducted, among others, the musical " Sweeney Todd" by Stephen Sondheim and the ballet "Face Me/Le Sacre du Printemps" with music by Michael Krause and Igor Stravinskij, as a co-production between the Deutsches Nationaltheater and the Staatskapelle Weimar as well as the Tanztheater Erfurt Ester Ambrosino.
Claudia Patanè is co-founder and music director of the International Festival Val di Noto in Sicily, dedicated to baroque music.
The repertoire of the captivating and versatile conductor ranges from early music to contemporary works, and from symphonic to opera, ballet and musical theater.
pura musica is dedicated to promoting female conductors. We are pleased to represent Claudia Patanè worldwide, with the exception of Italy. Please get in touch with us for booking inquiries and further information.

Artist Management

| Music Festivals | Career Coaching