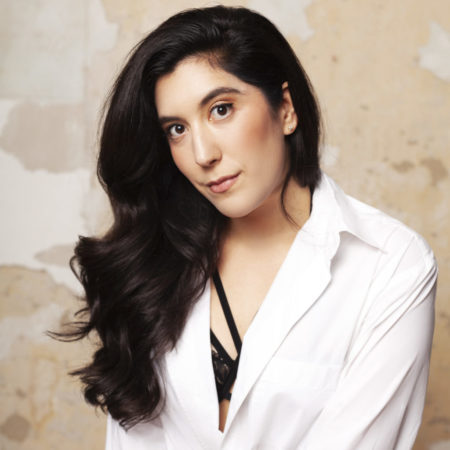 As the granddaughter of Holocaust survivors, Jewish American soprano Sara Duchovnay is passionate about performing songs by banned composers. Among them are a surprising number of works by female composers who are still largely unknown.
For pura musica, Sara Duchovnay has put together a compelling program featuring "Songs of Resilience".
Erich Wolfgang Korngold was born to a Jewish family in Vienna in 1897. He was a child prodigy and was already quite successful in 1920 when he premiered his opera "Die tote Stadt" at the young age of 23. In 1934, at the request of the actor/director Max Reinhardt, and due to the rise of the Nazi regime, Korngold moved to Hollywood to compose film scores. During his career, he wrote the scores for 16 movies, winning 2 Oscars and earning two more nominations. To this day, he is considered one of the most successful composers in Hollywood. The proposed song cycle was written in 1933, just before Korngold's work was banned, and shortly before his emigration to the United States.
Singer, pianist, and composer Lena Stein-Schneider was born to a Jewish family in Leipzig in 1874 and toured extensively during the 1920s, spending a notable amount of time performing in the United States. When Hitler came to power in Germany, she was banned from performing in public, and in 1942 she was deported to the Theresienstadt concentration camp. She barely survived and her health was so impaired that she could no longer perform. However, after living for some years in Switzerland, she returned to Berlin where she continued to compose. Lena Stein-Schneider died in 1958 in Munich.
Josephine von Winter was an Austrian painter, composer, and writer who was born in 1873 into a wealthy Viennese Jewish family. While she had access to the best education, it was not customary for young girls to study in the same way as their male counterparts and her musical talent remained undiscovered for quite some time. Eventually, she became a student at the New Vienna Conservatory where she received formal training. After the Anschluss in 1938, she was persecuted, her assets "Aryanized", and in 1942 she was deported to Theresienstadt, where she died in 1943. She has left to posterity several songs to texts by female poets of her time.
Viennese pianist and composer Hilde Löwe-Flatter was born to a Jewish family in Vienna in 1895. Löwe-Flatter worked regularly as an accompanist to the prominent Viennese actor Raoul Aslan, to whom she dedicated her first and most famous song "Das alte Lied".  At the advice of her publisher, she composed and published her work under the male pseudonym, Henry Love. In 1934 she emigrated to Great Britain and continued to compose. She died in London in 1976.
Viennese soubrette, pianist, and composer Camilla Frydan was born to a Jewish family in Wiener Neustadt in 1887. Her vibrant performance career ended abruptly in 1938 with her emigration, first to Switzerland, and later to the USA. However, even in exile, she continued to compose. She died in New York in 1949 and her artistic estate contains more than 500 songs.
Erich Wolfgang Korngold
Unvergänglichkeit, Op. 27 (1933)
(poetry by Eleonore van der Strooten)
1. Unvergänglichkeit
2. Das eilende Bächlein
3. Das schlafende Kind
4. Stärker als der Tod
5. Unvergänglichkeit
Erich Wolfgang Korngold
"Ich soll ihn niemals, niemals mehr sehn", from Die Kathrin
Lena Stein-Schneider
"Avinu Malkenu"
Josephine von Winter
1. Die Patrizier von Ragusa (Preradović)
2. Spruch der Halme (Benjamin)
3. Verlöbnis
4. Lied in Moll
5. Im Buchenwald (Winter)
6. Seelenlied
7. Das ist der Tag des Herrn
8. Requiem (Conrad Ferdinand Meyer)
9. Jetzt rede Du!
Hilde Loewe-Flatter (published as Henry Love)
"Das Alte Lied"
"You've long since forgotten me"
"Bleib mir treu"
Camilla Frydan
"One kiss for tomorrow"

Artist Management

| Music Festivals | Career Coaching