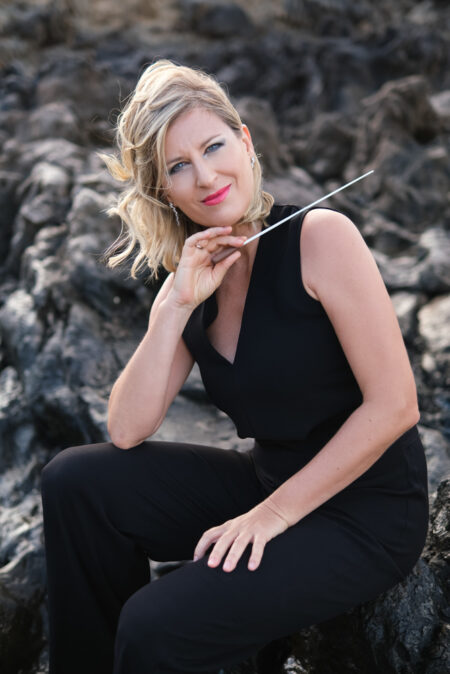 A rapidly rising star on the international stage, Nikoleta Popova has been praised by critics for her unique conducting and leadership style, which has been described as "passionate and musical", "splendid, vigilant in every impulse, a complete artist" and "successful combination between the folkloric background of the East and the passion of the Iberian musical tradition".
As the only Bulgarian orchestra conductor in Spain, over the years she has won over both audiences and critics in the repertoire of Spanish and Slavic music, into which she has incorporated the character of Bulgarian rhythms to enrich it and create a new approach that appeals to a more diverse audience.
Recent and upcoming highlights include appearances with orchestras in the United States and Europe, including her debuts with the Lithuanian State Symphony Orchestra, Hungarian National Symphony Orchestra Szeged, the Atlantic Coast Orchestra, and the Bulgarian Chamber Orchestra.
Nikoleta Popova appeared at such renowned festivals as the International Music Festival of Canary Islands, the Maspalomas International Trumpet Festival, the Flau Team International Festival Gran Canaria, and other music events all over Europe. She has collaborated as a guest conductor with the State Symphony Orchestra of the National Academy of Music in Sofia, the Philharmonic Society of Las Palmas de Gran Canaria, and the Symphony Orchestra of the Music Conservatory of Canary Islands, to name a few.
A semi-finalist for the Taki Concordia Conducting Fellowship founded and directed by Marin Alsop and chaired by Maestro Bernard Haitink, Nikoleta Popova is also a laureate of international competitions as a choir conductor, such as the European Choir Games, the International Choir Festival "Canta al mar". In her role as choir conductor, she has appeared as a guest conductor of the Festival Choir of Madison (Madison, WI, USA), Svetoslav Obretenov National Philharmonic Choir (Sofia, Bulgaria), Coro da Camara, Conservatorio di Musica "Luigi Canepa" (Sassari, Italy), Delantal Choir (New York, USA) and others.
Nikoleta Popova studied conducting at the National Academy of Music "Pancho Vladigerov", in Sofia, Bulgaria, and at the Universität für Musik und Darstellende Kunst Graz, Austria. In 2011 she received her PhD Degree in Music from the University of Las Palmas de Gran Canaria, Spain.
Since 2006 Nikoleta Popova has taught conducting at the Music Conservatory of the Canary Islands in Spain, where she leads the symphony orchestra, choir, and women's choir. Recently she was appointed professor at the Conservatory of Music of Aragon, Spain.
pura musica is dedicated to promoting female conductors. We are pleased to represent Nikoleta Popova worldwide. Please get in touch with us for booking inquiries and further information.

Artist Management

| Music Festivals | Career Coaching