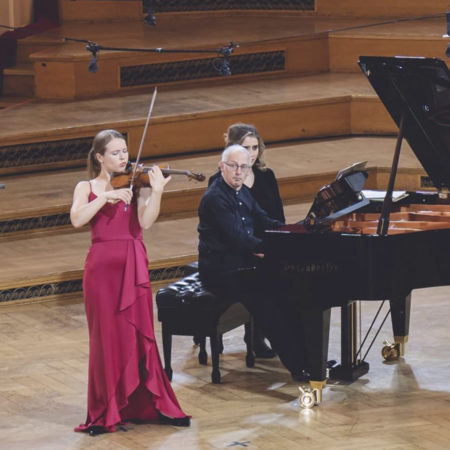 Until not long ago, musical creativity was not attributed to women. Genius had to be male.
And yet there have always been women who have written music. Good music. Music that is no better and no worse than the works of their male contemporaries.
Many compositions by women are considered lost. Some have been preserved in archives and private estates and are slowly being rediscovered. It is high time to make these touching works available to a wide audience.
The Dutch violinist Hawijch Elders takes us on a voyage of discovery across Europe and through different eras of music history with works by female composers.
Below you will find a list of works by female composers for violin and piano, which Hawijch Elders also likes to juxtapose with compositions by male contemporaries in her concerts.
Elisabeth Jacquet de la Guerre (France, 1665 – 1729)
Violin Sonata Nr. 1 in d minor (15')
Louise Farrenc (France, 1804 – 1875)
Violin Sonata Nr. 1 in c minor op. 37 (30')
Violin Sonata Nr. 2 in A Major op. 39 (30')
Variations concertantes sur une mélodie Suisse, op. 20 (10')
Clara Schumann (Germany, 1819 – 1896)
Three Romances, op. 22 (10')
Cecile Chaminade (France, 1857 – 1944)
3 pieces for violin and piano op. 31 (16′)
Sérénade Espagnole, arranged by Fritz Kreisler (3')
Poldowski (aka Regine Wieniawski, Poland 1879 – 1932)
Sonata in D (15')
Tango (3')
Dora Pejacevic (Croatia, 1885 – 1923)
Violin Sonata in D Major "Spring" op. 26 (22')
Lili Boulanger (France, 1893 – 1918)
2 pieces for violin and piano, Nocturne et Cortège (5')
Calliope Tsoupaki (Greece, born 1963)
Aeriko (7')

Artist Management

| Music Festivals | Career Coaching